Growth of the ODA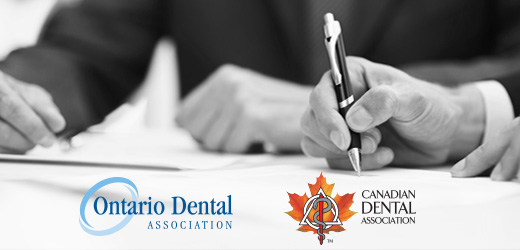 ODA Collaborations (2000s)
By the 2000s, the Ontario Dental Association (ODA) had embraced a spirit of collaboration with its peer organizations. In 2006, senior ODA staff met with the executive of the Ontario Association of Public Health Dentistry to find common ground, and agreed to work towards promoting community water fluoridation, smoking cessation, and other dental public health activities.
The ODA pursues partnerships with organizations that help to increase awareness of the connection between oral health and overall health. Some of our past collaborations have included: the Ontario Medical Association on reducing sugar intake during Halloween; the Canadian Diabetes Association on the relationship between diabetes and oral health; and the Dietitians of Canada on the role nutrition plays in good oral health. In 2012, we partnered with the Centre for Addiction and Mental Health's TEACH Project on the topic of tobacco cessation for Oral Health Month.
Most significantly, the ODA met with the Canadian Dental Association (CDA). While the ODA and CDA shared many common goals,there were occasions where both organizations unintentionally competed for the same members. To resolve this, in 2009 the Canadian Dental Association signed a National Memorandum of Understanding to clarify the roles and responsibilities of the CDA and its corporate members, the provincial dental associations. Competition for members ended, creating a streamlined and improved governance, and a united political and public voice to advocate on behalf of oral health care and oral health care professionals.
All Photos: Courtesy of Thinkstock